Things To Do with Kids In Montgomery
Break into spring by making sure you include these fun kid-friendly events and activities in your plans.
Events
Mar 25 at 9 AM – Mar 26 at 6 PM
Montgomery Zoo and Mann Wildlife Learning Museum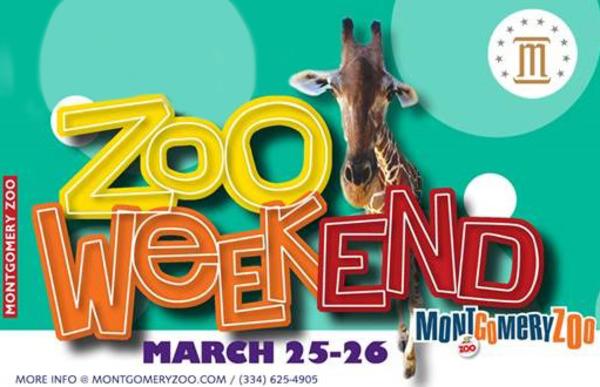 This fun-filled event at the Montgomery Zoo has been going on for generations and is loved by all ages. The weekend will be filled with great music, live entertainment, animal presentations and programs, games, prizes, rides, tons of yummy concessions, and fun, fun, fun!
The Zoo Weekend operating hours:
9am - 6pm daily
Last admission tickets sold at 5pm
We ask everyone to exit the park by 6pm
Parking: FREE
Additional parking at ADEM on Coliseum Blvd, and shuttle buses running continually throughout the event.
Tuesday, March 21; 10:00 AM–12:00 PM 
Montgomery Museum of Fine Arts
$30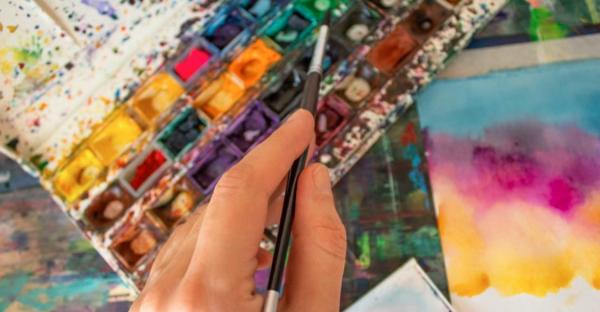 This studio class is designed for teens! Spend your spring break learning art fundamentals with local artists Matt Valverde and Tia Haynes. Participants will learn perspective, value, drawing techniques, and watercolor mediums. This workshop is limited to 15 teen artists for the three-day class (March 21–23), and advance registration is required.
Thursday, March 30, 2023 at 7 PM – 9 PM
Shoppes at EastChase - Located adjacent to Pies & Pints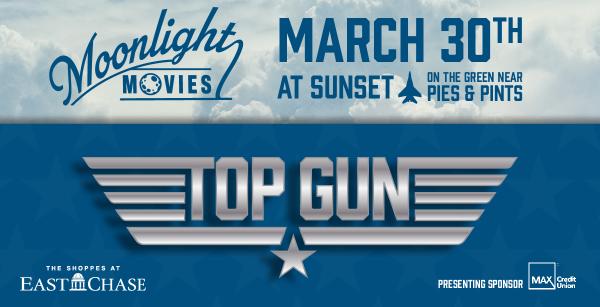 Grab your lawn chairs, blankets, and the whole family for Moonlight Movies featuring Top Gun: Maverick! 

Join us on The Green for a free outdoor movie on Thursday, March 30 at sunset. Presented by MAX Credit Union. Enjoy complimentary 
FRESH
 popcorn before the movie at The East Chase tent! Pies & Pints will also be serving up pizza by the slice inside the restaurant! Sweet Steph's Latin Pastries will also be POP-ing up to sell delicious Top Gun themed macaroons!
Saturday, April 1, 2023 11:00 AM - 1:00 PM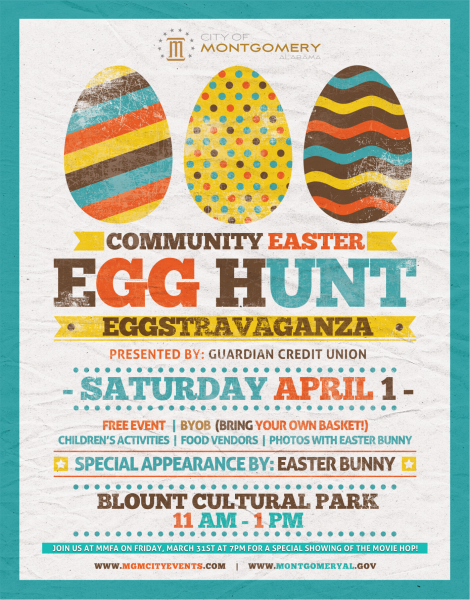 Easter egg hunt, kids activities, photos with the Easter Bunny, and more! Come out Saturday, April 1st, to Blount Cultural Park from 11AM to 1PM for the City's Annual Easter Egg Hunt Eggstravaganza! This free event will feature children's activities, photos with the Easter Bunny, food vendors, and more!
**Friday, March 31st at 7pm MMFA will have a special showing of the movie HOP!**
Saturday, April 1, 2023 11:00 AM - 3:00 PM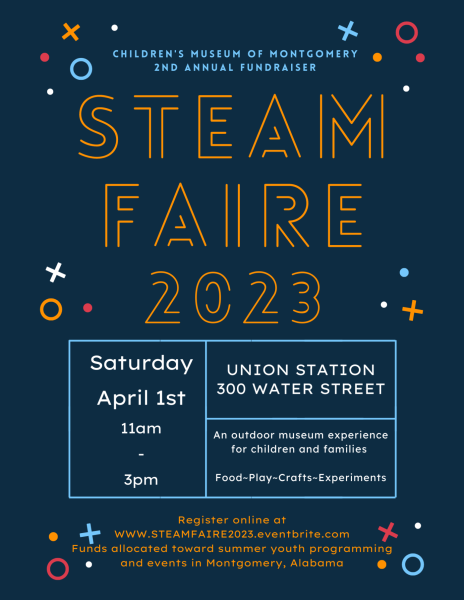 Join us for our 2nd Annual fundraiser: STEAM Fair(e) 2023-- an outdoor museum experience curated to ignite innovation and creativity in children and families of the River Region. All proceeds from this event support the CMM's mission to nurture and maintain creativity in the youth of Montgomery through hands-on exhibits, events, and programs. For more information visit: www.childrensmuseumofmontgomery.org
Tickets are available on our 100% fee-free platform.
Purchase Tickets
Saturday, April 8, 2023 at 11 AM – 2 PM
Shoppes at EastChase - near Pies & Pints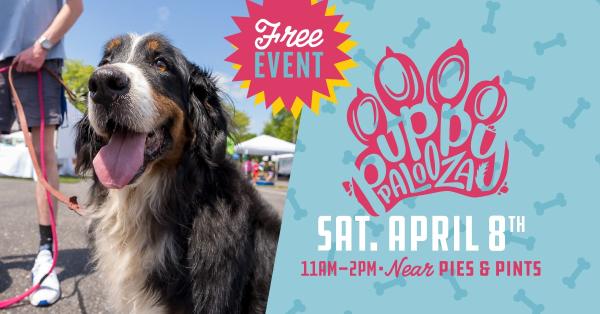 The ulti-MUTT event is back at EastChase!🐾
Join The Shoppes at East Chase Saturday, April 8 from 11 AM – 2 PM near Pies & Pints for Puppy Palooza!
The event will feature live music by Wesley Hill, pet adoptions, a fido marketplace, doggy activities, K9 splash zone, and more! There is something for the whole family, two-legged and four-legged alike! Puppy Palooza benefits our friends at the Montgomery Humane Society.
 
Tuesday, Apr 11, 6:35 PM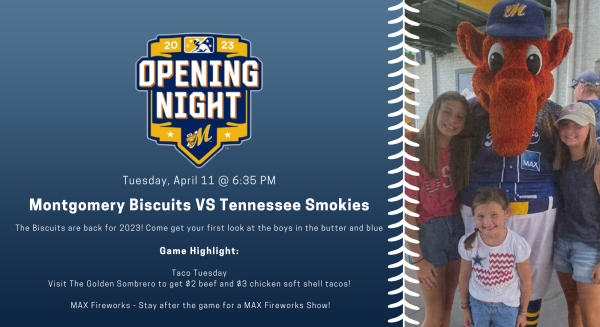 The Biscuits are back for 2023! Come get your first look at the boys in the butter and blue! Opening night promotions include Taco Tuesday food specials and Max Fireworks following the game.
Taco Tuesday
Visit The Golden Sombrero to get $2 beef and $3 chicken soft shell tacos!
MAX Fireworks
Stay after the game for a MAX Fireworks Show!
Saturday, April 15; 10:00 AM–2:00 PM CDT
Montgomery Museum of Fine Arts
Free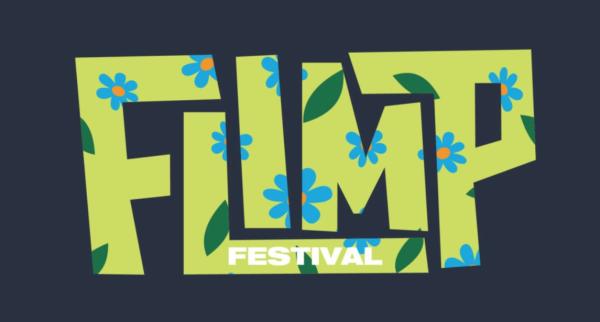 Bring the family to the MMFA's Flimp Festival—a day dedicated to stirring your creative spirit and igniting your imagination! This annual event is perfect for young families and children. Admission is free and there is always something new and exciting just around the corner. The first 100 families to enter the Garden will receive a colorful bag with items from our sponsors and art-making materials to make more art at home.
Museums & Places
201 South Bainbridge Street Montgomery, AL 36104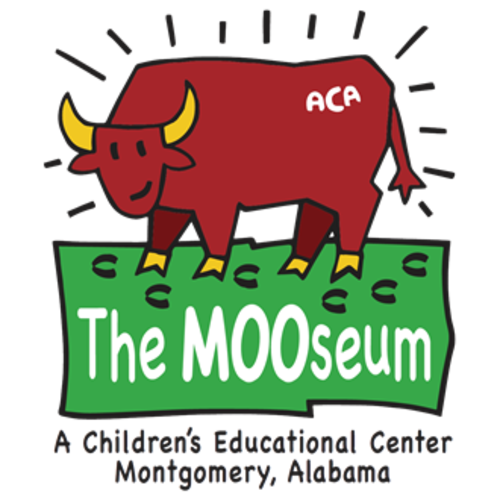 Since opening its doors in 1995, The MOOseum has been the premier venue for children and adults alike to learn more about Alabama's beef cattle industry. Whether you're a history buff looking to explore the timeline of the past or a parent who wants your children to learn in a hands-on environment, The MOOseum is ready for your visit.
1664 Venable Rd, Hope Hull, AL 36043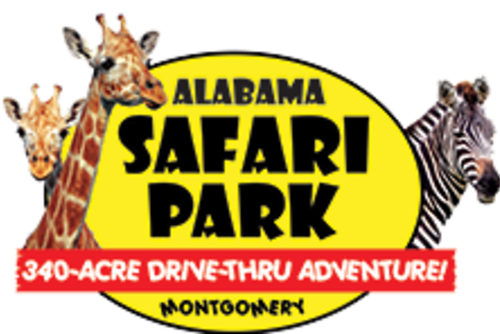 Interact with the animals safely from your vehicle while exploring the 350-acre drive-thru safari, on foot walking through the village walk-about, up close when feeding the giraffes on the giraffe tower, or in the petting area where you will find all your farmyard favorites.
600 Dexter Avenue, Montgomery, Alabama 36104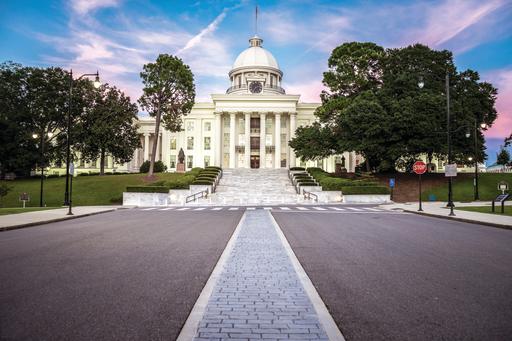 For 150 years the Alabama State Capitol has overlooked downtown Montgomery from its hilltop setting. This National Historic Landmark is a working museum of state history and politics. Daily Tours - self-guided and guided.
301 Columbus Street, Montgomery, AL, 36104

Take a peek into Alabama in the 1800s at Old Alabama Town. Explore several restored buildings from the 19th century!  Choose from either a guided or self-guided tour of the area. Old Alabama Come join us for the first Market Day of 2023! We have some fabulous vendors lined up and some great musical acts, too!
One Museum Drive, Montgomery, Alabama 36117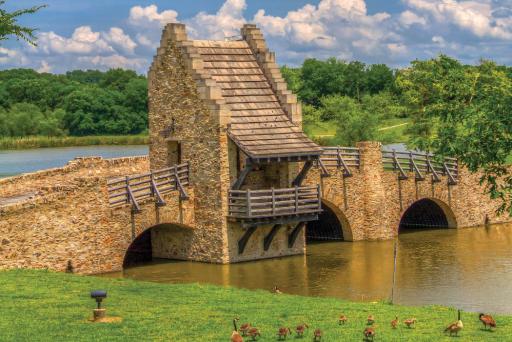 Free Entry + Free Parking
There is no charge for admission to the Montgomery Museum of Fine Arts. Ample free parking is available.
This 175-acre park is home to the Montgomery Museum of Fine Arts, the Alabama Shakespeare Festival, and the Hannah Daye Ridling Bark Park. Featuring ponds, miles of walking trails, a natural amphitheater, and picturesque scenery, Blount Cultural Park is open every day of the week. While the park itself closes at sundown each day, check MMFA and ASF schedules for exceptions.
Museum: 252 Montgomery Street, Montgomery, AL 36104
Children's Wing: 220 Montgomery Street, Montgomery, AL 36104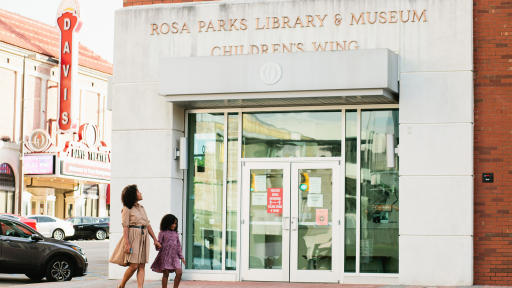 Explore the Rosa Parks Museum's Children's wing that houses a Cleveland Avenue Time Machine, which explores the evolution of 'separate but equal' segregation.
1000 Eastdale Mall, Montgomery, AL 36117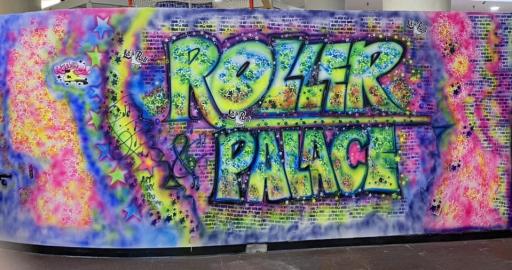 Eastdale Mall's former ice rink turned roller rink! lace up and get ready to zip around Montgomery's newest roller skating hotspot!