Civil Rights History
Home Base for Heritage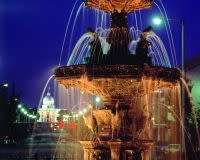 Montgomery makes a great home base for exploring many important Civil Rights sites.
Montgomery to Selma: Much of the Civil Rights story can be revisited in Montgomery. But even more can be found along the National Civil Rights Trail, which links Montgomery to nearby Selma. Once in Selma, tour compelling sites like the National Voting Rights Museum and Institute, the Brown Chapel A.M.E. Church & King Monument and the Edmund Pettus Bridge.
Montgomery to Tuskegee: A daytrip to Tuskegee offers a glimpse of heroism at the Tuskegee Airmen National Historic Site. Educational accomplishments are also honored in Tuskegee at "The Oaks," home of Booker T. Washington, and at the George Washington Carver Museum.