Montgomery is gearing up to celebrate Martin Luther King Jr Day and Inaugurate its 54th governor on Monday! We've got everything from who's open to event maps to make your experience memorable!
Inauguration Parade Route Map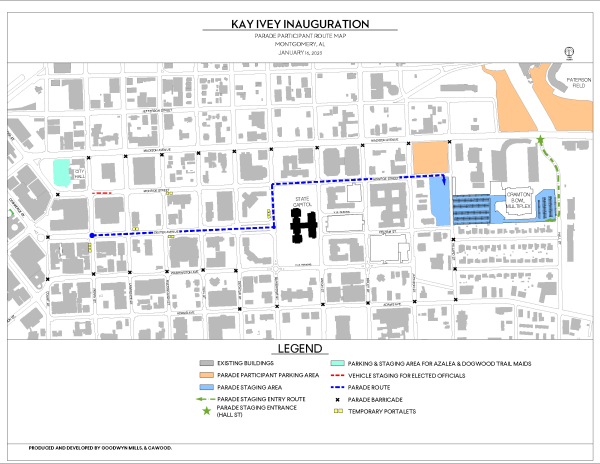 Parade Parking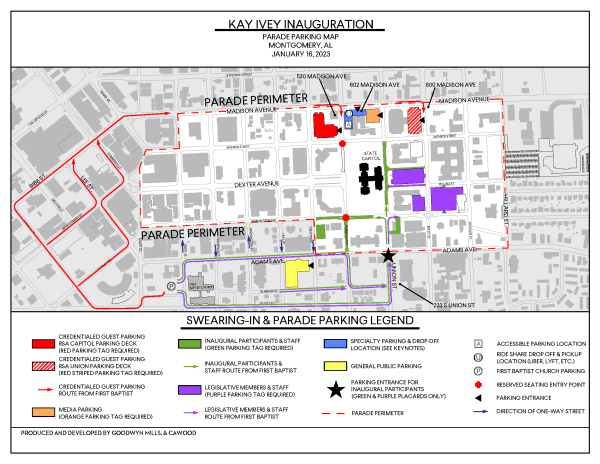 166 Commerce Street

(334) 387-3333
This dynamic bar and entertainment venue in downtown is full of energy with a combo of modern and historic décor and the city's only frozen shot room.
Family-owned & operated restaurant offering a variety of Southern-style sides and appetizers along with seafood, chicken, pork, seafood, burger or beef dishes.
138 Dexter Avenue

(334) 265-6850
For a bite of Montgomery and a mouthful of history, grab a few napkins and get your hands around a hot dog from Chris' Hot Dogs on Dexter Avenue. This legendary diner marked by the green-and-white-striped awning opened on May 1, 1917. It's now being run by the second and third…
400 Washington Avenue

(334) 956-8439
Created by Vietnam Veterans Memorial designer Maya Lin, the Memorial is located across the street from the Southern Poverty Law Center's office building in Montgomery, Alabama, a city rich with civil rights history. A circular black granite table records the names of the martyrs…
72 Dexter Avenue

(334) 832-0081
Cucos is the place to fill up on Tex-Mex standards like tacos, burritos and quesadillas. If you're feeling famished, eat like a world leader by ordering this cozy eatery's signature dish, the El Presidente. It includes cheese-smothered enchiladas, rice and refried black beans…
12 West Jefferson Street

(334) 273-7427
End your quest for the perfect 'cue at Dreamland BBQ downtown, famous for its succulent meats and delicious sauce. Feel free to "pig out" on some pulled pork, and do not miss the signature dish, a glistening, tender and smoky Rack of Ribs, but save a little room for dessert too…
201 Tallapoosa Street

(334) 481-5165
With world-class wines, beers and cocktails all served up in a swanky atmosphere that includes a covered patio complete with live entertainment nightly, The Exchange at The Renaissance Hotel & Spa is a great place to kick back and hang out. But it offers even more, a menu of…
210 S. Court Street

(334) 414-8647
Learn how 21 young people helped change our nation's history using nonviolent protest. Black and white, male and female, none of them were older than 21. They stepped off of a bus at this station on May 20, 1961. They knew they might be met with violence, and they were. They had…
547 S. Decatur Street

(334) 262-1798
Family-owned fast-food spot strictly offering burgers, chips & drinks in a buzzing, no-frills space.
118 Commerce Street

(334) 262-3600
Experience the history of the first Country Music superstar and see how Hank Williams transformed country music and sowed the seeds of what was to become American Music, Blues, Rockabilly and even Rock and Roll. The museum houses the most complete collection of Hank Williams'…
130 Commerce Street, Suite 100

(334) 676-3803
We serve from-scratch food made with excellent ingredients. At Jimmy John's our food is simple; it's clean, and it's fresh! We use locally purchased produce, which is brought in fresh and hand sliced daily. Our tuna salad is made from scratch by hand. Our real provolone cheese…
115 Coosa St

(334) 269-1803
The Legacy Museum: From Enslavement to Mass Incarceration is situated on a site in Montgomery where enslaved people were once warehoused. A block from one of the most prominent slave auction spaces in America, the Legacy Museum is steps away from an Alabama dock and rail station…
300 Water Street, Suite 115

(334) 269-0708
Thai destination offering up curry, noodle dishes & sushi in a historic Union Station building.
201 South Bainbridge Street

(334) 265-1867
A hands-on children's educational center with a unique agricultural theme.
624 Washington Avenue

(334) 242-4435
Located in downtown Montgomery, the Museum of Alabama is the only destination where you can explore Alabama's past from prehistory to the present. The Museum is located at the Alabama Department of Archives and History (ADAH), the nation's oldest state-funded, independent…
417 Caroline Street

(334) 269-1803
The National Memorial for Peace and Justice is the nation's first memorial dedicated to the legacy of enslaved black people, people terrorized by lynching, African Americans humiliated by racial segregation and Jim Crow, and people of color burdened with contemporary presumptions…
15 Commerce Street

(334) 416-8161
Serving lamb or chicken gyros along with Philly cheesesteaks, cheeseburgers and other favorites.
120 Madison Avenue

(334) 245-2320
Inside the Doubletree Hotel downtown, this casual eatery offers sophisticated, contemporary dishes inspired by the local harvest and Southern heritage. Its service lives up to the area's lauded hospitality with an emphasis on food "done your way." Start with an order of…
450 North Court Street

(334) 386-9116
Located conveniently in downtown Montgomery and located in the new EJI Legacy Pavilion. Expanding deliciousness by Cooking with Love is the staple of the restaurant's foundation. Our selection of meats and vegetables encompass the rich tastes and textures of our unique southern…
39 Dexter Ave

(334) 593-8816
We are Prevail Coffee Roasters, a craft coffee roaster and micro importer located in the heart of the Deep South. Our soul is in the soil, our ancestors were pioneering settlers and Muscogee Natives. We come from a long line of farmers, mill workers, soldiers and church-folk…
130 Commerce Street

(334) 495-7292
Sa Za is a feast for the senses. Taste authentic Italian masterpieces like Eggs in Purgatory, Stuffed Anaheim Hot Peppers as well as traditional and specialty pizzas. Or opt for its signature dish, Grandma's Sunday Sauce, meatballs, lamb and pork shoulder smothered in a rich…
Experience Montgomery's finest in New South Cuisine. Open for breakfast, lunch and dinner.
101-A Tallapoosa Street

(334) 356-5929
It's not boring when it is self-pouring. 57 taps filled with a variety of craft beer, ciders and wines. Simple flavor filled meals in a casual, fun atmosphere located in Montgomery's Alley Entertainment District.
252 Montgomery Street

(334) 241-8615
The Rosa Parks Museum is a living memorial for Mrs. Parks and elevates her legacy by serving as a platform for scholarly dialogue, civic engagement, and positive social change. The Museum includes a permanent exhibit, "The Cleveland Avenue Time Machine," as well as temporary art…
105 Commerce Street

(334) 262-4257
This seafood restaurant has been serving up fresh Gulf Seafood for over 75 years and its Montgomery location keeps the legacy alive by serving oysters any way you can imagine. The signature dish is the Oyster Sampler prepared with Oyster Rockefeller for the spinach lover; Oyster…